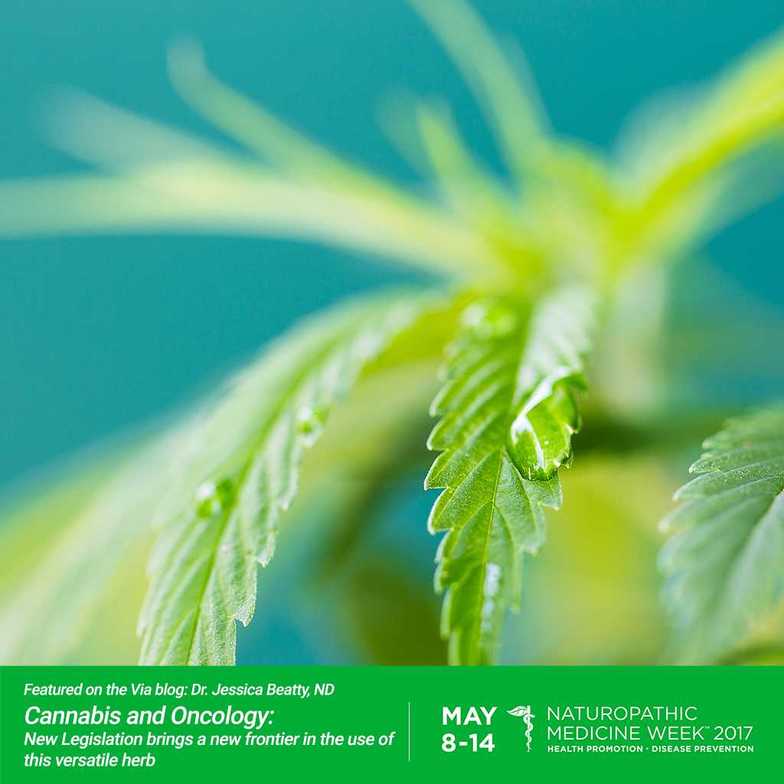 Dr. Jessica Beatty, ND
New Legislation brings a new frontier in the use of this versatile herb.
Cannabis has an extensive array of uses in the world of oncology. A meta-analysis review of 30 articles showed a superiority of cannabis in the treatment of nausea and vomiting over conventional drugs (Machado Rocha, et al. 2008). This has largely been the area of strength regarding the actual usage of cannabis while undergoing active cancer treatment. Even more promising is the data regarding cannabis use to conquer cancer-related pain. Research is quite positive here, and may allow for a reduction in the usage of opiates.
Cannabis is not entirely safe, and has largely been related to free-radical formation when combusted (smoked). More research needs to be done looking at alternative administration routes and forms of cannabis delivery. Under the new liberal legislation, cleaner, more regulated varieties of cannabis will be made available to the average lay person. This opens up different avenues of use for this versatile herb, as well as a general sence of acceptance. For example, end of life care in a patient with terminal cancer usually brings with it a sense of anxiety, pain and insomnia. Cannabis has a place here to help with all three of these symptoms, whereas in the past it may have been glossed over or completely rejected as a legitimate treatment.
Animal models (mouse and rat studies) have shown some interesting data regarding inhibition of the growth of certain types of cancers, particularily prostate cancer. These studies have not yet been performed on human populations, but they have brought to light that certain tumors have receptors for cannabinoids and so present as a possible future therapeutic target in the fight against cancer. Currently you still need a prescription from your medical doctor to be able to access medical marijuana.
Dr. Jessica Beatty, BSc. ND
Naturopathic Doctor (MNA, OncANP)
dr.beatty@vianatural.ca
Appointment Hours:
Mondays & Thursdays: 1:00 pm – 8 pm
Tuesdays: 9:30 am – 5:30 pm
Fridays: 9:30 am – 4:30 pm